Each day that goes by I get more excited about the prospects of the Insurance Museum project succeeding. Jonathan Squirrell and his team at OB Brand Consulting have completed the fourth online fire insurance gallery in our virtual museum. The trustees are considering which class of business we should feature next, funds permitting. Marine is high on the list, but we are open to ideas especially if funding comes too.
The chances of finding a suitable venue for our 'Mini-Museum' have improved immeasurably. We have inspected 3 possible locations on one week with more being suggested regularly. However, we are in no rush and are conscious of the importance of location, location, location.
The Insurance profession (I hate calling us 'an industry'!) is fortunate indeed to have two of our insurance colleagues, Alderwoman Dame Susan Langley and Alderman Bronek Masojada, elected as the next Sheriffs of the City of London. They are friends of the Museum, and we hope to be working with them during their terms of office.
On a more down to earth note, Museum Director Howard Benge, Jonathan Squirrell and I spoke at a one-day conference organised by Middlesex University. We asked the audience before our presentation "what is your impression of Insurance? Rather boring or quite interesting?" As we expected the majority raised their hands at rather boring. At the end of our session, we asked the same questions, and no-one put their hands up at rather boring. It only goes to show that if we can gain people's attention to explain the real benefits of insurance, they are pleasantly surprised and do not find it boring at all.
On behalf of everyone at the Insurance Museum, I would like to congratulate one of our volunteers, George Worby, who has been awarded the CII's Insurance Practitioner Apprentice of the Year. George is a Team Leader at Daines Kapp Insurance Brokers Limited and has been volunteering for the IM for the past year. He has advised us on producing material for apprentices and new entrants into insurance, and carried out research to support our new virtual gallery.
As knowledge of our existence grows, we are being offered items for our collection. We have limited storage facilities at the moment, so we are reluctant to take in too much. One of the offers we did accept was a book of "Sketches at Lloyd's." On a quick glance, the book reminded me of a Titanic story I read and have commented on before. The story is in Godfrey Hodgson's 1984 book "Lloyd's of London – A Reputation at Risk." He quotes a memorandum in the archives of C T Bowring in support of the importance of 'utmost good faith': –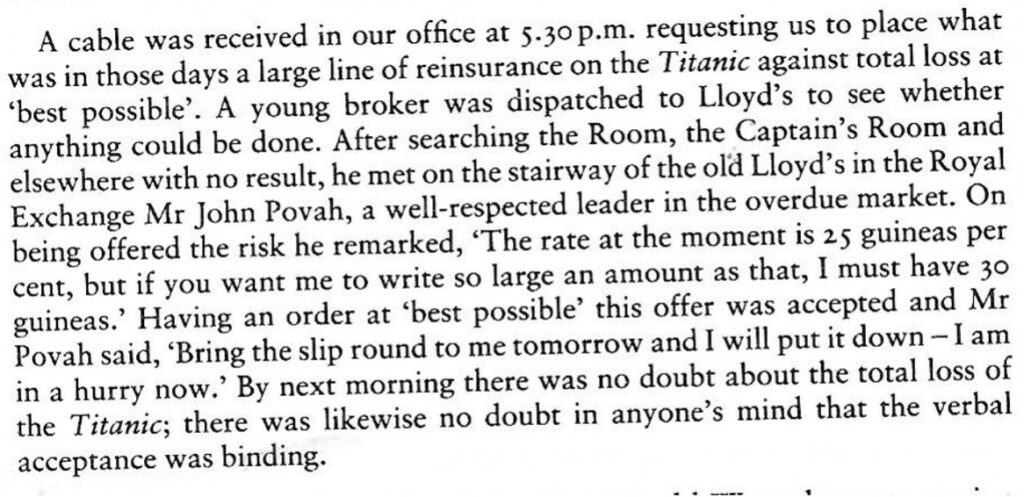 And here is the sketch of Mr Povah in 1925, from the book "Sketches at Lloyd's".
Fascinating! John Povah was the underwriter of syndicate 214 F A Manning and the only member of Syndicate 271.
"Sketches at Lloyd's", published in 1925, is a book containing wonderful caricatures of prominent insurers at Lloyd's. They are all personalised with annotations of their hobbies, or personal traits. The book was donated by Simon Lockwood, on behalf of WTW.
Fundraising 
We are delighted to welcome Velonetic, the joint ventures between DXC Technology, the International Underwriting Association (IUA), and Lloyd's of London, as lead sponsor for the fourth in our series of digital galleries exploring the history of fire insurance. Velonetic, previously referred to as the London Market Joint Ventures, shares our passion here at the Insurance Museum for using technology to unlock the history and stories behind insurance and we are hugely grateful for their support with making our latest digital gallery possible.

Chris Halbard, CEO of Velonetic said "We are delighted to sponsor the Insurance Museum who share our passion for bringing together the worlds of insurance and technology. We encourage you to visit and share the online exhibition – through learning from the past, seeing how we have got to today, we hope that this will ignite creativity and innovation in an evolving and dynamic industry."
You can read all about the new gallery, which is now live on our website, elsewhere in this newsletter and find out more about Velonetic here www.velonetic.co.uk.
Again, I would like to thank all those who make individual donations or join up with our Insurance Museum Membership. All income keeps us on track to reach our aims in telling the story of global insurance to all.
Reg Brown – Insurance Museum Chairman
October 2023