By Reg Brown, Chairman, Insurance Museum
One of the most interesting insurance companies I have come across in my search for insurance related picture postcards is the King Insurance Company, founded in 1901. It didn't last long and according to Post Magazine's 1998 Insurance Directory its direct business was transferred to the Commercial Union and wound up 1915.
As this card shows their HQ was at 8 Bucklersbury (Queen Victoria Street) E.C. Those of my vintage who know the City may well remember Bucklersbury House, where Scottish National once resided, and now absorbed by the giant Bloomberg Building. The illustration of Bucklersbury in the XVII Century is interesting, and is that St Swithin church just right of centre?
If you find the front of the card interesting, take a look at the back. No surprises in the fact that they transacted Fire, Accident, Burglary, Contingency and General Insurances.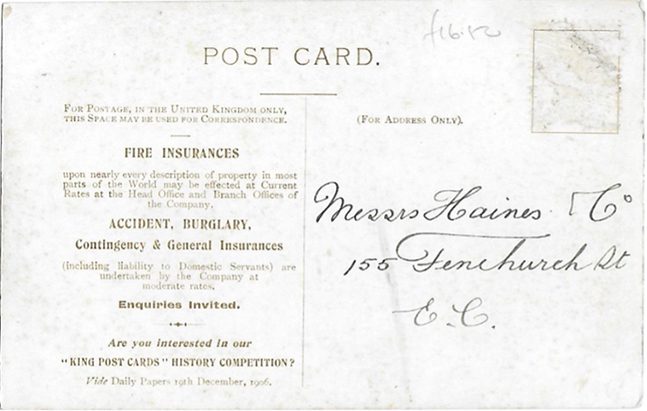 But my attention was drawn to the words at the bottom relating to "King Post Cards History Competition" and the reference to Daily Papers 19th December 1907.  The Times Newspaper of that date contained an advertisement for the company and announced that
"The Directors are arranging to offer a PRIZE of £25 for what they may consider the best and most interesting account of the REIGNS of ENGLAND and of GREAT BRITAIN as depicted on these post-cards, to be written in a style suitable for an Illustrated History for the use of YOUNG CHILDREN.
Conditions of the competition may be obtained on and after 3rd February, 1907 but this early intimation is given in order that those who have "King" Post-cards may, should they so desire, retain them for reference. The issue is strictly limited."
The Company proceeded to publish a series of cards featuring Kings from 829 – Egbert, 'the first King of all England' to 1830 William IV. The first 12 cards in date order were unnumbered but from 13 Edward II (The Martyr) until 49 William IV they were numbered.
Here are the first and last cards:-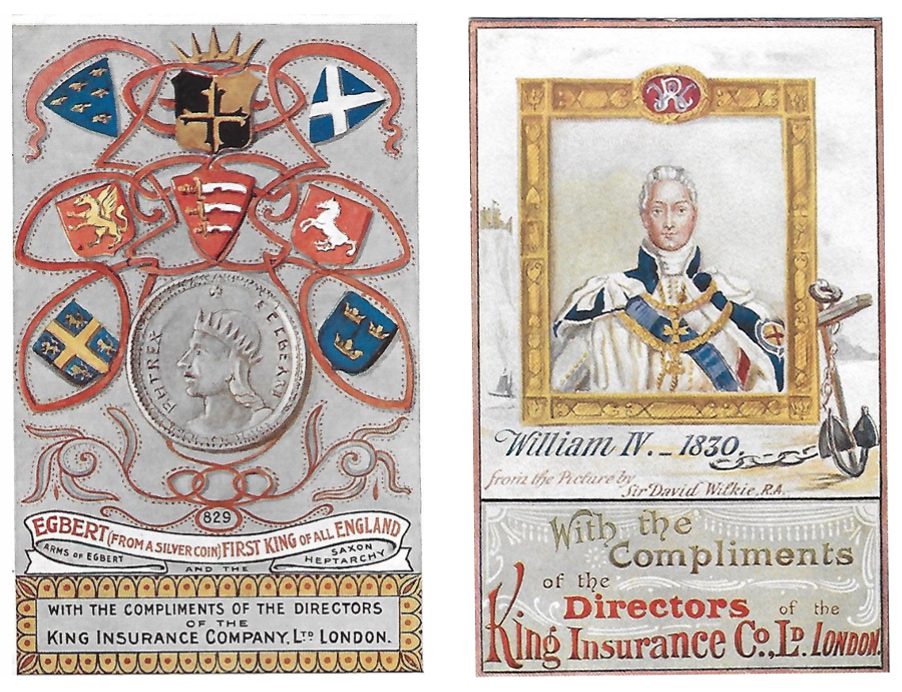 I've long been intrigued to know why the company ceased to publish any more cards. Why would they stop at 49 rather than 50? Despite the long reign of Queen Victoria there were 2 more Kings before the company was wound up in 1915. Edward VII reigned from 1901 until 1910 and George V from 1910 to 1936. It was suggested to me by the AVIVA archivist at the time of my enquiry that perhaps it was a reluctance to feature a living King. But surely there was plenty of time to feature Edward VII after 1910!
Maybe the supporters of Insurance Museum can come up with a better explanation.
Reg Brown, Chairman